29 September 2016
Latour 1959 in magnums, what else?
---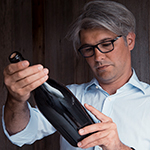 By Michael Ganne
Michael Ganne is originally from the Médoc region of Bordeaux and naturally chose to dedicate himself to the wine business. Yet his unswerving taste for novelty spans beyond the great Bordeaux wines…
I have been lucky enough to taste Latour 1959 four times in the past 10 years (since February 2006) and I must admit that this wine is just as exceptional, though different, as its younger brother 1961… very often noted as an anthology wine with extraordinary potential! 
Latour 1959 is magical in many ways – as one can expect, for its impressive concentration, but also for the sensuality and freshness due to the eucalyptus menthol notes so typical of a great Latour. The wine imposes rich, unctuous and smooth fruit, with slight smokey/tobacco notes, cedar wood – a lovely balanced trio coupled with acidity enhancing the finale, the alcohol and tannins giving the wine an enviable youthfulness… The length and aromatic persistence proves the vintage's outstanding quality. The wine's tertiary notes are globally very discreet and it seems to have a lifetime ahead… 
Yields for this vintage were around 30hl/ha and this is probably the last great vintage before "modern œnology" really appears at Latour. 
Let's be honest – if this wine is so superb in its bottle size, I encourage you to dream of it in a magnum, for as you know, magnums are the ideal format for wine conservation…
Connoisseurs know how arduous it is to find a magnum in good condition. But six… in an original wooden case emanating from a splendid Swiss cellar… this lot is a rare find!
No doubt this unique case of 6 Latour 1959 magnums will keep you dreaming and enthused for many years to come… Have a wonderful time at our "French Terroirs" wine o'clock – happy clicking!
Lot 2
6 magnums  of Château Latour 1959
CHF 35,000 – 50,000
EUR 32,200 – 46,000
---