24 May 2018
Interview with Emmanuel Rouget
---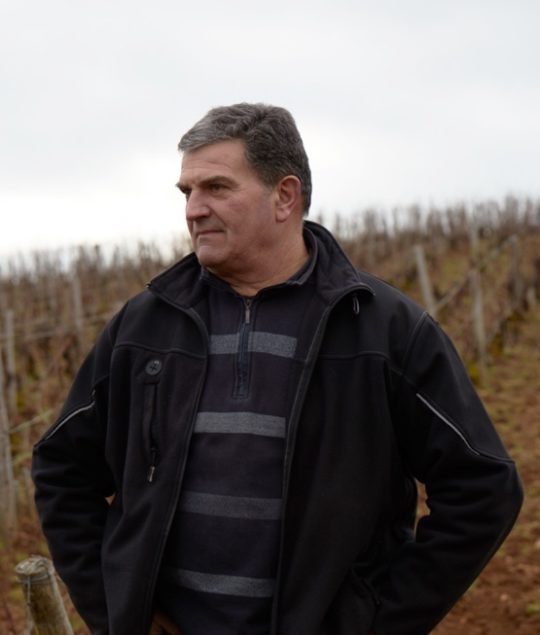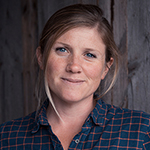 By Julie Carpentier
Julie Carpentier's past is deeply rooted to the Loire valley. She has shown a remarkable understanding of native varietals together with an overall taste for exceptional and unique products…
Julie Carpentier, Baghera/wines: You worked alongside your uncle Henri Jayer, at the Domaine in Vosne-Romanée, as from 1976 – could you share with us some of Henri Jayer's "recipes" in handling his vineyard?
Vous avez travaillé avec votre oncle Henri Jayer, au domaine à Vosne-Romanée, à partir de de 1976 — pouvez-vous nous révéler certains de ses secrets à la vigne ? 
Emmanuel Rouget: My uncle used to say "It all starts with the vine". I still remember very clearly my uncle and my aunt working relentlessly 6/7 in the vineyard. Nothing was left to chance. Utmost plant care, a lot of observation: these are the teachings my uncle passed on to me in regards to work in the vineyard. No concessions (for instance, he never gave in to the temptation of mechanization at all costs), absolute rigor. Trust the soil, trust the plants, escort them until harvest. There really is no secret here: to produced top-class wines, you need perfect grapes!
Mon oncle disait toujours « Tout commence à la vigne ». J'ai le souvenir intact de mon oncle et ma tante travaillant 6 jours sur 7 d'arrache-pied dans les vignes. Rien n'était laissé au hasard. Un grand soin de la plante, beaucoup d'observation : c'est ce que le tonton m'a transmis des travaux de la vigne. Aucune concession (il n'a d'ailleurs jamais cédé à la mécanisation à tout prix), une extrême rigueur. Faire confiance aux sols, faire confiance aux plantes, les accompagner jusqu'aux vendanges. Il n'y a en réalité pas de secret : pour faire de grands vins, il faut des raisins parfaits!
You took part in preparing the last bottles from your uncle's cellar to be offered at auction on the 17th of June – in what condition are these bottles?
Vous avez participé à la préparation des derniers flacons en provenance de la cave de votre oncle pour la vente aux enchères du 17 juin – comment sont les bouteilles ?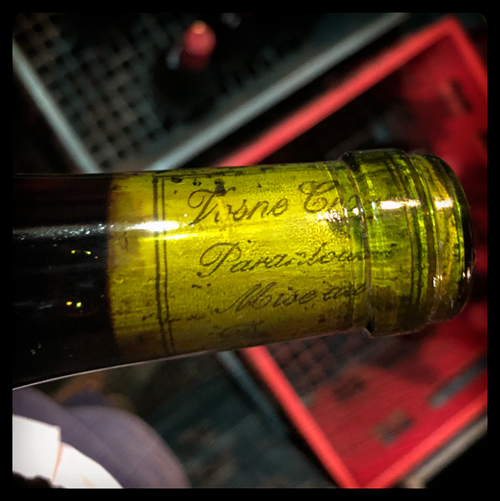 When my cousins informed me that they planned to sell the very last bottles from my uncle's cellar, I naturally offered to help. I knew the quality of the Domaine's cellar in Vosne and the great care that my cousins took to maintain the premises in the best of conditions since my uncle and aunt died, and I was happy to see how the bottles and magnums were all tremendously preserved. This underground cellar offered the bottles ideal conditions: optimal hygrometry and a gentle temperature variation of 2 to 3°C throughout the year. All of my uncle's bottles were stacked "sur pile", undisturbed, intact. The quality of the corks is incredible: they are all perfectly in place and have done their preservation job as expected. The fact is that my uncle always refused to compromise on the quality of his corks. He always worked with the best cork makers, and we can say that after all these years, it is for the benefit of the wine. Levels are really outstanding here and really sublime for bottles of their age. In the vast majority, levels are set around 2-3 cms below corks, which is quite spectacular. As for those rare bottles with slightly lower levels (never below 6 cms), these are still phenomenal for wines of 25-30+ years old. Besides, considering all these years of cellarage, I was astonished to see how legible all these corks were, from one cru to another, from one vintage to another… even for bottles from the 1970s!! Last February with my cousins Lydie and Dominique, we labelled and capsuled the very last bottles from the cellar, by hand, using my uncle's original cellar equipment. Nothing has really changed you know!
Lorsque mes cousines m'ont parlé de leur projet de vendre les derniers flacons du tonton j'ai naturellement proposé mon aide. Je connaissais la qualité de la cave de Vosne et le soin que prenaient mes cousines à maintenir la cave dans les meilleures conditions depuis la disparition de mon oncle et de ma tante, et j'ai été très heureux de voir à quel point l'ensemble des bouteilles et magnums était superbement conservé. Cette cave souterraine a offert aux vins les conditions optimales de conservation : une belle hygrométrie toute l'année et une variation douce de plus ou moins 2 à 3 degrés sur l'année. L'ensemble des vins de mon oncle étaient conservé sur pile, intacts. La qualité des bouchons est incroyable : ils sont tous parfaitement en place et ont fait leur travail de conservation comme il se doit. Il est vrai que mon oncle n'a jamais transigé sur la qualité de ses fournitures en bouchon. Il a toujours travaillé avec les meilleurs bouchonniers et on peut dire que, après toutes ces années, c'est au bénéfice du vin. Les niveaux sont d'ailleurs exceptionnels pour l'âge des vins. En grande majorité ils sont de 2-3 cms sous le bouchon, ce qui est assez spectaculaire. Quant aux rares bouteilles légèrement plus basses (jamais au-delà de 5cms), cela reste des niveaux clairement remarquables pour des flacons de plus de 25-30 ans ou plus. D'ailleurs, malgré les années en cave, j'étais surpris de voir à quel point les bouchons sont tous bien lisibles, cru après cru, millésimes après millésime… même pour les bouteilles des années 1970 !! En février dernier avec mes cousines Lydie et Dominique, nous avons donc étiqueté et capsulé les derniers flacons, à la main et sur les machines qu'utilisaient le tonton. Rien n'a changé vous savez!  
Could you also share some of Henri Jayer's "recipes" as a winemaker?
Pouvez-vous nous révéler certains de ses secrets en cave ? 
My uncle's cellar in Vosne is actually rather small. He designed it that way because he wished to master the whole vinification process from A to Z, and so he never aimed to manage more vines, nor vinify more grapes than he would be able to, all by himself. His secret in the cellar: let Nature do it. Henri often said "I'm not the courageous kind, and since Nature does it so well, I have no reason to substitute myself to Her". At a time when chemicals and mechanization were strongly encouraged, he encouraged non-interventionism. Once grapes were harvested with the greatest of care, he used to make a point of placing equal high demand on the cellar work. That's why he systematically used the sorting table in order to make sure no unfit berry would enter the vats, he perfectly mastered oak barrel aging, he would only bottle his wines by hand using the "chèvre" in order to avoid interfering with the finished wines and would not filter his wines to avoid emaciating them.
La cave de mon oncle à Vosne est en réalité assez petite. Il l'a souhaitée ainsi car il désirait maitriser l'ensemble de A à Z, et donc il n'a jamais désiré exploiter plus de vignes ou vinifier plus de raisins que ce qu'il était en mesure de tout faire par lui-même. Son secret en cave : laisser faire la nature. Henri disait souvent « Je ne suis pas courageux de nature, et comme la Nature fait si bien le travail, je n'ai aucune raison de me substituer à elle ». Dans une époque soutenue par la chimie et la mécanisation à tout-va, il encourageait le non-interventionnisme. Après des raisins vendangés avec un grand respect à la vigne, il mettait un point d'honneur à imposer ce niveau d'exigence en cave. C'est la raison pour laquelle il utilisait systématiquement de la table de tri afin de s'assurer qu'aucune baie impropre ne rentre en cuve, maitrisait parfaitement l'élevage en fûts, faisait sa mise en bouteille à la chèvre pour ne pas choquer les vins et ne les filtrait pas pour ne pas les décharner.
On the 17th of June, the auction will turn Domaine Henri Jayer's last page – what does this mean for you?
Avec cette vente du 17 juin prochain, c'est la dernière page du Domaine Henri Jayer qui se tourne : que ce que cela vous inspire?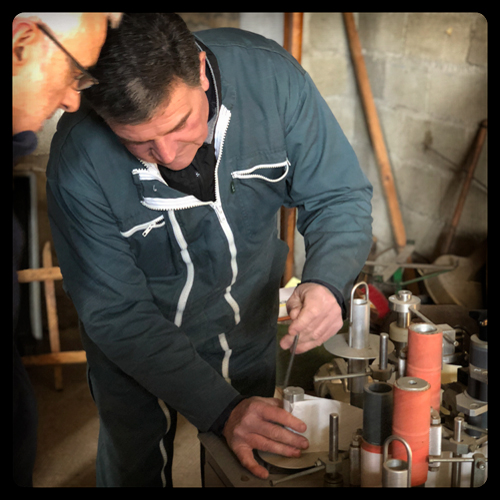 I first started to work in the vineyards with my uncle. Without this intimacy with Henri Jayer, I would most probably have gone into another career!! My uncle's Domaine no longer is. I have now been working for many years in the vineyard that he relentlessly nurtured (or created in the case of the Cros-Parantoux) during his career as a vigneron. I now work side by side with my two sons. Passing on the craft and the "savoir-faire" is an intangible thing but it is the most precious of all. Henri Jayer taught me the trade, and then I made my own path and my own learnings. Today I am happy to entrust this knowledge to my two sons, so that they in turn can write another chapter of the history of our lineage of Burgundian vignerons.
J'ai commencé ce métier aux côtés de mon oncle. D'ailleurs sans cette proximité avec Henri Jayer, j'aurai probablement exercé une autre profession !! Le Domaine de mon oncle n'existe plus désormais. Je travaille depuis de nombreuses années, et maintenant avec mes fils, les vignes qu'il a lui-même exploitées (ou créées pour le cas du Cros-Parantoux) durant sa vie de vigneron quelques années en arrière. La transmission du savoir-faire est une chose immatérielle et c'est la plus précieuse. J'ai appris énormément aux côtés d'Henri Jayer, puis j'ai fait mon propre chemin et mes propres apprentissages. Je suis heureux aujourd'hui de transmettre ces savoir-faire à mes deux fils afin qu'ils écrivent à leur tour un nouveau chapitre de l'histoire de cette lignée de vignerons de Bourgogne. 
---
---