25 September 2016
Hill of Grace masterclass | Tasting notes
---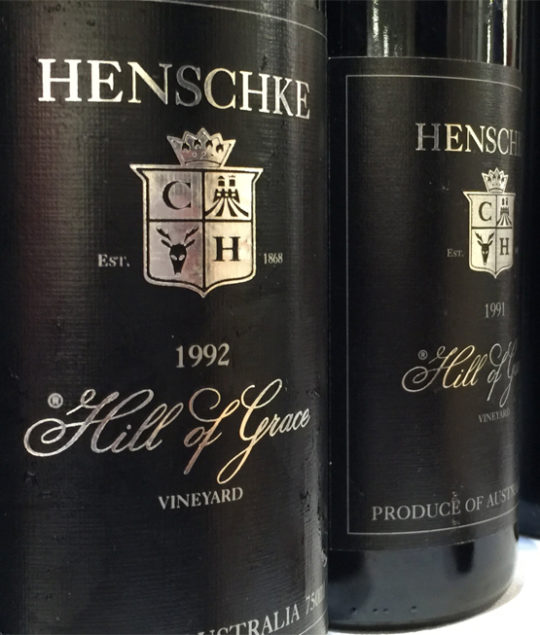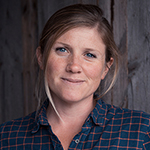 By Julie Carpentier
Julie Carpentier's past is deeply rooted to the Loire valley. She has shown a remarkable understanding of native varietals together with an overall taste for exceptional and unique products…
On June 14th, in Geneva,  we were a limited circle of blessed wine lovers who had the chance to taste 13 vintages of the illustrious "Hill of Grace" from the Henschke Vineyards. 
HILL OF GRACE HENSCHKE 2009 (****)
Intense garnet colour. A wide array of aromas on the nose. On the palate, ripe dark berries (elderberries and blueberries) along with great delicacy (feels like Southern Rhone). At first, full-bodied, rich mouthfeel embellished with silkiness. Aromas imparted by oak barrel ageing are still present as well as alcohol (medium). Firm tannins among intense fruit and glycerol. Surprisingly, the finish slightly lacks of length and density. 
HILL OF GRACE HENSCHKE 2005 (*****)
Elegant nose, dark, pure, very ripe fine fruits. On the palate, fruits are just like Pinot Noir and remind us of Burgundy. A hint of orange notes, makes us think of Tuscany. This wine show round and sensual flesh (lace). Balance is incredible, the wines and all its component appear to be supple and rounded. It finishes on a refreshing and elegant acidity. 
HILL OF GRACE HENSCHKE 2004 (*****)
Racy and elegant on the nose. Red fruits are set together with animal-meaty pleasant flavours. On the palate, the wine expresses roundness and fine flesh, then a powdery tannin texture, firm and silky at the same time. Fresh finish with superb acidity (herbal aromas) and a great deal of minerality. Length and nobility can for sure qualify the finish of this superb specimen. 
HILL OF GRACE HENSCHKE 2001 (*****)
On the nose, a wide array of elegant and noble aromas: black fruits, leather and fine sandalwood. One could believe here to be in the presence of a cru from Bordeaux. On the palate, the wine is firm, "fleshy" and shows great deal of glycerol along with a lively acidity. The overall impression is about an extraordinary fruit feeling and a harmony. Glycerol sets aside all the components, until the very long finish. 
HILL OF GRACE HENSCHKE 1998 (*****)
This 1998 allows us to get into the mature wine chapter. On the nose, it gives the impression of a lacy texture, even if showing a full-bodied expression such as classic Bordeaux wine-style. Complexity here is astonishing: red and dark ripe berries, oriental wood, banana peel, Provencal herbs, leather… On the palate, the wine shows fabulous smoothness, despite a tight and robust tannin structure. Fine spicy notes. The overall impression reveals a outstandingly young wine that can still age. A remarkable and truly distinct personality.
HILL OF GRACE HENSCHKE 1997 (****)
The aromas here are on distinguished ripe fruits, with a slight rustic style that makes us think of a Côte du Rhône with its graphite fragrance. Strong-bodied wine with much a notable personality, despite a more difficult approach. The fruit nature of this wine comes along with delicate chocolate, mocha and iodine notes. The palate is marked by a sharp acidity and a venison-like aspect. Alcohol is well pronounced on the finish. 
HILL OF GRACE HENSCHKE 1996 (*****)
Vibrant colour with orange tinge. Fine richeness on the nose: exotic fruits (mango, banana, fig…) and nougat. On the palate, great sweetness at first then full-bodied impression that lasts. Wood and liquorice notes. Strong personality, never-ending finish that strengthen the impressive breath of this wine. 
HILL OF GRACE HENSCHKE 1992 (***)
The array of aromas expresses a great personality, but the overall impression is less impressive that in the previous wines. Tobacco, leather, herbs and liquorice notes. Rich and full-bodied wine. Slightly heavy-handed finish, with an excess of alcohol (non-integrated). 
HILL OF GRACE HENSCHKE 1991 (****)
Elegant perfumes of fine aging: mushrooms, smoke, hay. On the palate, roundness is followed by rich, full-bodied richness and alcohol (integrated). Slight stringent tannins harden the finish. Once it opens in the glass, it turns more harmonious and graceful. 
HILL OF GRACE HENSCHKE 1989 (****)
Superb amber tinges. Classic and elegant aromas. Complexity here is remarkable: red fruits, vanilla, exotic wood (cedar), overblown rose… The wine is bull-bodied but harmonious. Still with a lively fruit and acidity that enlivens the wine in the glass. Finish lacks of brio due to grippy tannins. 
HILL OF GRACE HENSCHKE 1988 (*****)
Noble light garnet colour. Superb nose, fine and pure: one could feel in the presence of a great Burgundy due to the smashed and over bloomed rose scents. Perfect harmony. Extreme finesse of the tannins. A magnificent wine, lively and vibrant. 
HILL OF GRACE HENSCHKE 1987 (*****)
Noble, racy and complex aromas: ripe fruits, dried flowers, leather, nougat, caramel, sun-dried tomatoes… Medium-sweet palate, round with a powdery tannin texture. Alcohol is present and counter-balances harmoniously the other components. The finish of this wine shows much body and intensity. 
HILL OF GRACE HENSCHKE 1985 (*****)
Superb mahogany colour. Opulent wine from the start, with voluptuous flesh but with firm and pleasant tannins. Sensuality and roundness qualify this wine from the very beginning until it disappears. A superb acidity support the wine and celebrates its qualities. Length and density. An incredible wine. 
In collaboration with Dominique Fornage, Ecole Nobilis.
---