14 May 2019
"Domaine René Engel, The Trilogy": a conversation with Michèle Engel 
---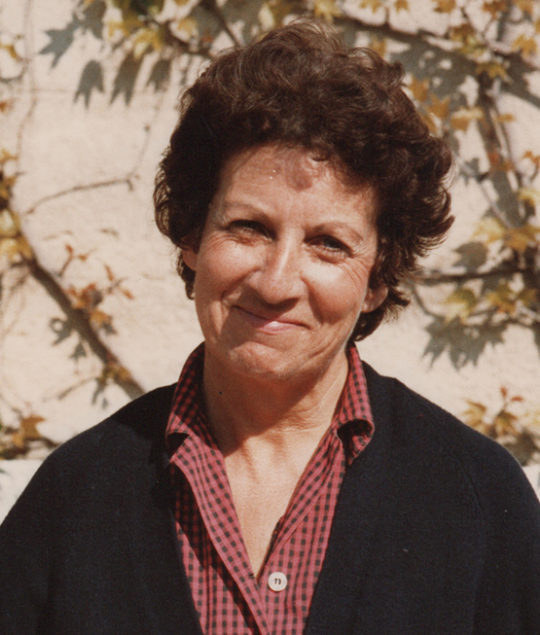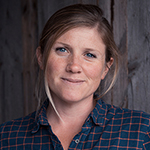 By Julie Carpentier
Julie Carpentier's past is deeply rooted to the Loire valley. She has shown a remarkable understanding of native varietals together with an overall taste for exceptional and unique products…
A conversation with Michèle Engel and her daughters Claire and Brigitte
Dijon — February 15, 2019
Julie Carpentier — René Engel was your father-in-law, you knew him well…
Michèle Engel — René Engel was born in 1894. A winegrower at Vosne, for 35 years he was also Professor of Œnology at the Faculty of Sciences in Dijon. He took an interest in all kinds of scientific questions. He went to high school at Beaune (the same high school that my father went to, but in different years). It's hard to imagine today – becoming a Professor of Œnology without a degree in the subject! My father-in-law was asked to come and teach courses at the Faculty. He was called upon for his knowledge, regardless of his lack of qualifications.
Brigitte Engel — It's funny because from time to time I run into people in Beaune who tell me they remember the œnology courses their parents took with our grandfather René Engel. He taught with Professor Bergeret, who along with Charles Quittanson – who worked for "La Prévention des Fraudes" (Fraud Prevention) – were the best.
Julie Carpentier — What was it that made œnology such a passion for him?
Brigitte — Having inherited his father's vineyards, and being very curious by nature, he took a passionate interest in the subject. All his knowledge about œnology was totally self-taught. He lost his father at the age of three: Alexandre Engel, a wine-broker in Dijon, died in 1897. His widow, Eugénie Wodey, originally from Alsace, had a tobacconists – la Civette – on Rue de la Liberté in Dijon. She went on to meet François Faiveley, (known as "Paul"), wine-maker and owner of vineyards in and around Vosne-Romanée. When Paul Faiveley married Eugénie, he took young René under his wing and raised him as his own son. Later, Paul transferred the Estate to René. "Pépé", as we children called our grandfather René, often told us this story that one day, Paul Faiveley asked him, 'So, René, what do you want to do when you are older?' René replied 'Take over the Estate.' His answer was delivered with such aplomb. For him, it was self-evident: he would take over the Estate of his father-in-law.
Michèle — This story about young René reminds me of the time when, following the death of my husband in 1981 my father-in-law (René) came to me and asked, 'Michèle, what are you going to do now?' I answered without hesitation: 'We carry on. With Philippe, we carry on.' My father-in-law was a little taken aback by my answer… And to tell the truth, I hadn't even had the time to see Philippe and to talk to him about it, but deep down I knew he'd agree, and that it was the right path to take. I had no experience, but it seemed obvious we should replace my husband at the head of the Domaine. In the end, it was a little like what my mother had done upon the death of my father with the rennet factory in Dijon, taking over the management of the factory after the sudden death of her husband.
Julie Carpentier — What of the Tastevin association?
Michèle — My father-in-law René Engel was one of the founding members of the Tastevin association. At the time, the cellars of Burgundy were filled with wines that weren't selling and they had the idea of joining forces to promote Burgundy wines. With Georges Faiveley, Camille Rodier, Jacques Prieur and so on. Before they started meeting at the Château du Clos de Vougeot, the association would meet at Nuits-Saint-Georges.
Julie Carpentier — What was your relationship with your father-in-law like?
Michèle — He always intimidated me, with his bearing and his stern air. I recognised that he was a very intelligent man, very demanding, passionate and interesting. I regret not having listened to him closely enough. Women always admired the bearing of this serious, upstanding man, who nevertheless had a great sense of humour. He had lots of funny stories to tell (always the same ones, but they still made us laugh). At the Domaine, my father-in-law welcomed the staff early in the morning, gave out the instructions for the day, then disappeared into his office to read. He also wrote quite a lot. He had a weekly column in the local newspaper Le Bien Public. René did a lot for wine-growing in the region. Wine-growers from across Vosne would come to see him, bringing samples when they had problems with their wines, with fermentation and so on. An œnology laboratory on a wine estate in these days was something really pioneering.
Julie Carpentier — Tell me about your arrival at Vosne-Romanée.
Michèle — I came to Vosne-Romanée when I married my husband in 1950. I was eighteen-and-a-half years old. We had met at Jean Grivot's, during a surprise party organised at the Grivot Estate, to which a friend was invited, and I went with her! I was very young. I left behind my town life in Dijon.The life of my parents-in-law in the countryside was very different from everything I knew. Initially, we all lived together in Vosne under one same roof. That wasn't always easy: the mentalities of town and country folk were so different at that time. I was young, I didn't dare ask too many questions, and I just had to get used to this new environment. In my new family, reading was important. My husband, Pierre, following a long day in the vineyard, would go to bed early at 8, after eating all together at 7 (when we were first married, we shared meals with my parents-in-law, before we set up our own apartment in the house). I remember that once my husband was in bed, I stayed in the little study with my parents-in-law. My father-in-law had his head in a book, my mother-in-law would be reading L'Écho de la Mode, and I was encouraged to read The Three Musketeers, by my new family!
Julie Carpentier — Did you feel welcomed into this new family?
Michèle — Yes, I was welcomed, even though my parents-in-law would probably have preferred their son to have married a woman who had some vines to her name! But in the end it was a little bit the same situation with René, who had married his beloved Antoinette (Vercely), originally from the Yonne, and who had no vines either, though she did have fields. My mother-in-law didn't work in the vines. Nor did I, except during the harvest periods. I'll always remember a Vosne-Romanée local saying, when I was suffering from a herniated disk, 'It wasn't from working in the vines that you got that hernia!'
Julie Carpentier — It can't have been easy for you to adapt to these new codes of conduct of the wine-growing milieu…
Michèle — On my arrival, my mother-in-law took me to visit the various wine-growers the family knew, to introduce me. They'd told me, 'Above all, you must greet everyone you meet, whether you know them or not.' All that was new for me.
Julie Carpentier — Did you begin to learn about wine and the vine though the work of your husband Pierre, or had you already picked something up from your parents-in-law?
Michèle — It was through my husband's work on the Estate that I familiarised myself with vine cultivation and the whole milieu. But we didn't work together – the Estate was his business. And then we had four children, who all grew up in Vosne, on the Estate. It was only when my husband died that I began to work for the Domaine, properly speaking. Until then, I'd only helped out with the payroll, and of course with managing things during the harvest period.
Julie Carpentier — Pierre Engel was a wine-grower, but also a man of many talents.
Michèle — My husband engaged in many activities in parallel to running the Estate. He was mayor of Vosne-Romanée, president of the Water Union, founder of the Round Table, of the Young Vine Professionals, of the Youth Centre… He was a literary man. He wrote wonderfully. During the Second World War, when he was 12 or 13, he had taken a course with the village priest, Father Krau. He was a man of great erudition, who had taken a small group of young people from the village under his wing and taught them French, Latin and Greek. This group of friends included Jean Grivot, Henri Liger-Belair, Georges Mugneret, Jean Méo… It was really thanks to Father Krau that he deepened his literary knowledge and his oratory skills.
Brigitte — Our father was a very cultivated man. He read very widely, every day. For example, he loved Sciences et Vie magazine! He read newspapers, literature, comics… He'd learned the Larousse dictionary by heart. He was also very manual: he did a lot of handiwork, and he embarked on new challenges grounded in his reading, like the time he decided to install central heating all by himself at our house in Vosne. He had multiple passions: wrought iron, aviation, scuba-diving, photography, skydiving, his œnology laboratory…
Michèle — My husband, who had his qualification in œnology, had completed his winemaking knowledge beside his father René, who was self-taught and highly skilled in this field. Every year, my husband and I took part in a trip organised by winemakers as part of an œnology conference. Henri Jayer, by the way, was also part of these trips.
Julie Carpentier — Tell me about life on the Estate during the time of Pierre Engel.
Michèle — My husband took over the Estate a few years after the war, before we got married. There weren't a lot of staff available to work on the Estate. There was a group of labourers who were women, who were entrusted with "baux" (leases) which were certain parcelles of vines which were allotted to them and which they were in charge of all year round, until just before the harvest. They pruned, picked, restored walls, etc. In the cellar, alongside my husband Pierre, there was a small team of men who looked after the wines. When my husband took over the Estate, he basically sold the wines in bulk to the wine-brokers. Gradually, we worked more and more with individual clients, and we increased the volume of wines that we bottled ourselves. With the bulk sales, we secured the cash flow for the Domaine, which was something!
Julie Carpentier — To which négociants were the wines sold in your husband Pierre's time?
Michèle — There were several of them: Moillard, Jadot, Labouré-Roi, Mommessin, etc. But when it came to private clients, we invited them to the Domaine for wine tastings. The best clients were received by my husband and myself at the house. Initially, we sold our bottles mostly for export. It was upon Philippe's arrival on the Estate in the mid-1970s that we significantly increased, year by year, the share of wines sold as Domaine-bottled.
Claire & Brigitte — Our brother Philippe had worked alongside our father during our father's long illness. When our father died in 1981, he had been very tired for ten years, with serious problems in his eyes, and later his lungs. In the end he succumbed to heart disease.
Julie Carpentier — What was your role in relation to your husband's position as mayor?
Michèle — I attended certain inaugurations and social events in the town with my husband as part of his duties as mayor of Vosne. After his death, I became a municipal councillor for two terms, for social welfare. That was a very rewarding experience for me.
Julie Carpentier —  How did the transition of the Estate from René to Pierre take place?
Michèle — When Pierre took over the Domaine, he was barely twenty years old, and he was the only boy. My father-in-law retired from the Domaine fairly quickly, transferring responsibilities to my husband.
Claire — Something that few people know is that our father also studied law. Seeing that his son was interested in becoming a lawyer, our grandfather René began to sell off vineyards. Pierre, realising that a career as a lawyer would mean the end of the "Domaine René Engel", then switched to winemaking, taking up the succession of his father at Vosne-Romanée out of "filial duty".
Julie Carpentier —  Tell me about Philippe and the renewal of the Estate.
Michèle — Philippe had always been a true passionate about vines and wine. He had a lot of talent and practiced his profession with a lot of heart and determination. He made marvelous wines. I'm thinking in particular about the 1985 vintage. A wonderful vintage that won recognition from the broader public and from the specialist press who praised his work more widely. René, his grandfather, stayed by Philippe's side until his death in 1986. In the mornings they would open the post together. During the day, he would regularly pass by the vat room, offering his advice to Philippe, particularly on the occasion of his first grape harvest, and his first 'solo' vinifications. Even if they sometimes disagreed, René was very proud of Philippe's wines and accomplishments at the head of the Domaine. Philippe had clearly been called to winemaking as a passion, and he worked with great determination on the Estate's wines. Beginning in 1985, there was a succession of superb vintages that allowed Philippe's talents to fully express themselves.
Julie Carpentier —  What was it like to co-manage the Estate with Philippe?
Michèle — At Philippe's side, I threw myself into the work for the Domaine. He took care of the vines and the winemaking. He also welcomed clients to the Estate for tastings. Upon the death of my husband, the transition from Pierre to Philippe took place quite naturally, and he became an accomplished man of the vineyard. He built on what he already knew how to do, having worked for 6 years on the Estate by his father's side. For the administrative side of things, however, he relied on me. It was a new field for me, and at the outset it was far from easy. I remember that Jean Grivot – my husband's best friend – often came to lend a hand, and to show me how to fill out the different customs declarations, and so on. I managed the whole hosting aspect during harvest time, as I'd already done in Pierre's day. Hot meals, snacks out among the vines, beds, hot wine, and so on. About thirty people during harvest week, and about forty during the Paulée festivities. As far as the wines are concerned, Philippe knew what he was doing and I didn't give him advice. However, I did share my opinion on the wines when it came to opening one of his earlier vintages.
Julie Carpentier —  What would be the characteristics shared by Domaine René Engel's wines over this trilogy of winemakers?
Michèle — The Estate's wines have always had a reputation as quality wines. It is true, however, that Philippe's wines have become more internationally renowned than those of his father and grandfather. He had a different way of working – the pruning of the vines, the use of a sorting-table, stainless steel vats, the wine-presses, the partial ageing in new barrels, and so on. His generation spent a lot of time visiting cellars, there was more dialogue with his wine colleagues and friends. They shared advice and recommendations between winemakers.
Julie Carpentier — A common thread, something that unites these three generations of men working at Domaine René Engel?
Michèle — As a matter of fact, each wine is unique to the winemaker who created it. The personalities of René, Pierre and Philippe are expressed differently over these three periods. All three of them were very different. The wines of Philippe were the finest and most delicate, with that fruit-seeking character that is so typical of them. The link between the three would be their scientific research and openness to change and innovation, in their respective periods. Philippe, for his part, extensively modernised the cellar's equipment. My husband was very successful with his wines in good years, and bought his first tractor (jointly with Jean Grivot) in the mid-1950s. Before that, everything was done on horseback. The last horse on the Estate was known as "Pompon".
Claire & Brigitte — We remember our horse Pompon, especially the day he was sent off to the butchers. 'Pompon-sausage' my sister and I said. We've never been able to eat horse meat…
Julie Carpentier — What wines do you drink as a family?
Michèle — I loved it when my husband brought up from the cellar bottles covered in that wonderful black moldy fluff. What's more, we didn't clean it off, we served the bottle just as it was! When my husband was in charge, we drank wines from our own Estate, above all. During Philippe's time, we tried a lot of bottles from other Estates, swapped with other winemakers. There was an openness and curiosity that arrived with the new generation. Personally, I've always loved older wines.
Julie Carpentier — Domaine René Engel only produces red wines.
Michèle — At the Domaine, it is all red. Pinot noir and a little bit of Gamay. Gamay was part of the permitted composition of BGO (Bourgogne Grand Ordinaire) which, in certain years, was truly excellent. This wine was not put on sale. It was solely for family consumption (even during Philippe's time in charge) and made from our plot of vines (Glapigny).
Julie Carpentier — Do you enjoy the white wines of Burgundy? If so, which ones?
Michèle — Yes! I particularly like the Meursaults and the wines from the Corton family. In reds, my preference goes to Clos-Vougeot and also to Grands-Échezeaux.
Julie Carpentier — A particularly memorable vintage?
Michèle — 1985, of course. But also 1991 and 1992, which are two of the Estate's great successes. 1978 as well. 1955 was an exceptional vintage, and the wines produced by Pierre that year were truly remarkable. It was also the year Philippe was born.
Julie Carpentier — When were the house and cellar built? And when was the Domaine René Engel born?
Michèle — The house and underground vaulted cellar were built by Paul Faiveley between 1900 and 1910. The parents of Paul Faiveley were also winegrowers, and he inherited the Domaine from them. We can establish the commencement of Domaine René Engel at around 1919. René began exploiting the vineyards of Paul Faiveley when he returned from the Great War (during which he had been mobilised, then taken prisoner and from which, ultimately, he escaped and returned to France towards the end of the conflict). Quite a few plots of vine were already in place from the time of Paul Faiveley, which Paul handed on to René. But René added to them with a number of purchases, as from 1919 (one hundred years ago!).
---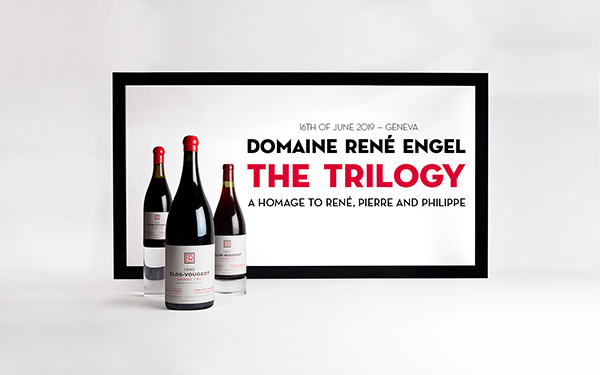 ---