1 May 2022
Domaine Ponsot winemaker dinner
---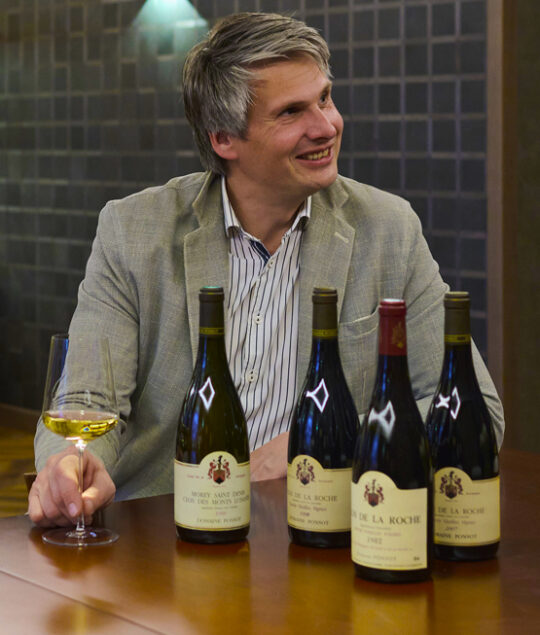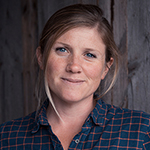 By Julie Carpentier
Julie Carpentier's past is deeply rooted to the Loire valley. She has shown a remarkable understanding of native varietals together with an overall taste for exceptional and unique products…
Throwback to a spectacular winemaker dinner with Domaine Ponsot
—

24 March 2022, Geneva
Nestled in the heart of Morey-St-Denis in the Côte d'Or since 1862, Domaine Ponsot reflects the richness of the Burgundy terroirs and produces - among others - six grands crus, including the iconic Clos de la Roche.
On the occasion of Domaine Ponsot's 150th anniversary, I jointly prepared with Alexandre Abel back in March this year, a rare tasting for the 1865 by Baghera/wines club members, which was accompanied by a delicious menu concocted by Dominique Gauthier — restaurant Le Chat Botté*.
At Baghera/wines it's been our outmost pleasure to host an entertaining and thrilling winemaker dinner in the presence of serious Burgundy aficionados coming from far and wide.
Please enjoy the details of the wines shared during an evening to-be-remembered!
- Morey-Saint-Denis 1er Cru Clos des Monts Luisants Très Vieilles Vignes 2014
Beautifully complex 100% Aligoté wine. Notes of peach and nectarine along with great acidity and lemon notes on the palate, but with just a little rounded feel in the mouth enhancing a pleasing and appetizing mouthfeel. It felt like this wine really just hit in the perfect spot and we couldn't dream of a better entrée for this sumptuous dinner! 
-Morey-Saint-Denis 1er Cru Clos des Monts Luisants 1998
An aligoté (85%, with 15% Chardonnay) with Loire Valley accents. A side of Layon wines without sugar, fat, notes of quince, a smooth evolution. Liveliness and acidity still well present, fine grid, salinity and sweet spice. Beautiful aromatic. Quite atypical but really well constructed. An excellent wine!
-Corton Charlemagne Grand Cru 2014
Clean, pure, nicely integrated fragrances of rich and waxy lemon and almond notes. Silky and voluminous, the finish of this wine demonstrates a Corton Charlemagne still evolving with gentle nutty aromas showing up when the glass reaches room temperature. 
-Morey-Saint-Denis Cuvée des Grives 2009
Wonderful bouquet of ripe cherry flesh, spice, black raspberry and earth, really smooth and elegant mouthfeel with soft integrated tannins and good acidity  — and a medium length finish. A delicious and rewarding wine, dominantly marked by its calcareous streak and the 2009 distinctive hedonistic vintage qualities in Burgundy.
-Gevrey-Chambertin Cuvée de l'Abeille 2011
Dark fruit aromas dominant on the nose. Beautifully spicy and clean, evolving towards luxurious sour plums and blood orange as the wine reaches room temperature. Medium bodied, strawberries, chalky minerality, pronounced acidity. Well composed, rather light but very elegant.
-Morey-Saint-Denis 1er Cru Cuvée des Alouettes 2005
Pure fruit juice from rather young vines. Full-bodied, powerful but not heavy. Kept changing over the course of the bottle towards earthy, gamy notes with good acidity and moderate tannins. Quite introverted at first, this mature wine revealed to be supported by a nice ripe acidity and a good ability for a longer cellarage. A lovely Morey! 
-Griotte-Chambertin Grand Cru 2007
When it comes to red Côte de Nuits, I love the 2007 vintage. It's been drinking superbly for the past 2 years and never cease to surprise me... This Griotte perfectly embodies the ethereal qualities of this vintage at its best : floral overtones, explosive red berry fruits, charming acidity, soft tannins. Tender, pulpy and ... elegant like no other. A kaloidoscopic Griotte-Chambertin that caught my heart!
-Chapelle-Chambertin Grand Cru 2007
From 30 years old vines on average. Bright red fruit with sous-bois and herb notes. A surprisingly dense wine on the palate. Energic, well-balanced, the tannins will most certainly benefit from additional cellarage to perform more harmoniously. Feminine ("puissant mais fin" said Alexandre), savory and aging very nicely. Let's re-taste it in 3 to 5 years ! 

-Clos de la Roche Cuvée Vieilles Vignes  2007
Mid-ruby, brick-amber edges. Earthy, animal, smokey, red fruit (pungent fresh nose of burlat cherry) with a strong chalk note mixed in. Concentration, wonderful balance and engaging spice. This Clos de la Roche 2007 is nuanced yet expressive, quite pulpy but restrained and very fine, all in harmony. Absolutely fabulous!

-Clos de la Roche Cuvée Vieilles Vignes 1998
This underrated vintage can be excellent, with deep colour and ample structure, when yields were controlled and selection was strict at harvest. Pale brick color. Very pretty mature Pinot aromatics with very bright and pure red cherry fruits, coffee notes, and light floral scents. On the palate, a moderate acidity and well integrated tannins. A very pleasantly balanced wine, drinking very nicely.
-Clos de la Roche Cuvée Vieilles Vignes 1982
Last wine of this flight. All the 11 bottles being ex-domain. Medium body and color. Supple with an appealing mix of spices, red currant, fresh pine, and damp earth. Acidity is high. Very much in its drinking window. Drank nicely but very ephemeral.
—
I like Domaine Ponsot wines for their fleshy character, for their volume, vintage after vintage, and because they know how to find their full identity with aging, It is when they fully bring a singular vision to the family of great Burgundy wines & terroirs.
What a fantastic evening it's been!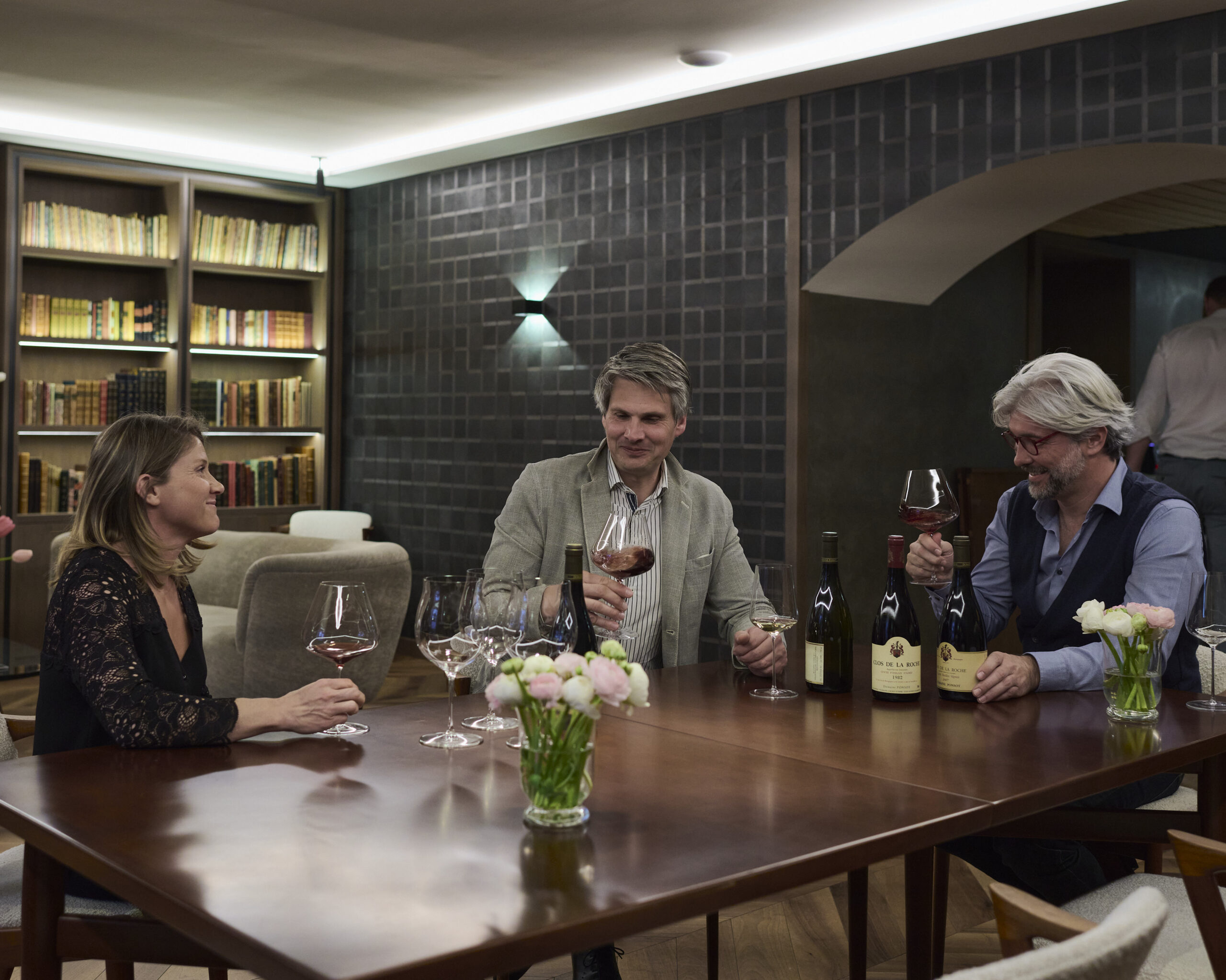 Julie, Alexandre, Michael and Gary preparing the wines to be tasted on that very special winemaker dinner.
---