27 February 2023
a wave of green & yellow
---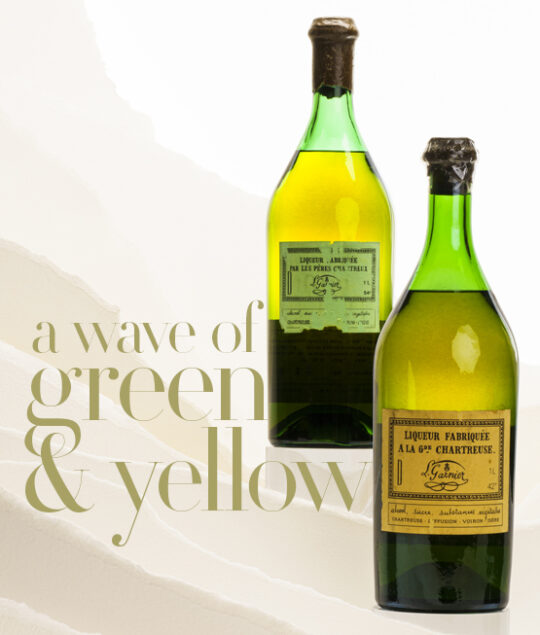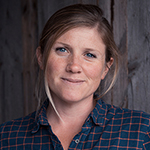 By Julie Carpentier
Julie Carpentier's past is deeply rooted to the Loire valley. She has shown a remarkable understanding of native varietals together with an overall taste for exceptional and unique products…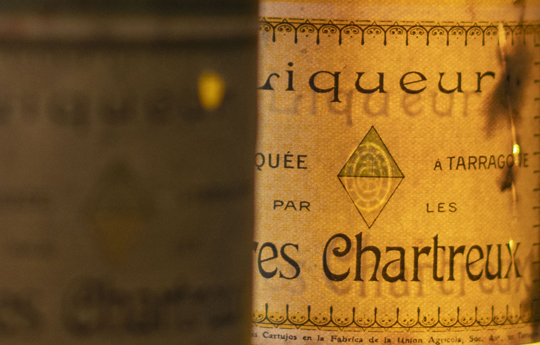 the obscure origins of this elixir…
A geographical massif, a religious order, a liqueur and a colour (Chartreuse green), the obscure origins of this elixir of long life – or Chartreuse liqueur – contribute significantly to the saga and and to the atmosphere of legend that surrounds the family of enthusiasts and devotees of the immortal Chartreuse liqueur.
A concoction born of the savoir-faire of a religious community this liqueur, with its 130 ingredients, is a remarkable heritage which combines knowledge of plants, the art of distillation and the perpetual secrecy of its elaboration, and this despite the vicissitudes of its history. The liqueur produced by the Carthusian Fathers, of which the quality and fame have crossed borders and traversed centuries, is now more than ever a timeless passion among afficionados and collectors of this spiritual liqueur with its unique taste and its age-old history.
1567 is the number of witnesses to this history, the fruit of an encounter between the Chartreuse liqueur and the author-collector of this majestic collection of bottles, which we have the privilege of showcasing next March, as a tribute to the savoir-faire and devotion of the Carthusian order dedicated to the production and development of the elixir of long life.
"Once upon a time… Chartreuse" is a series of singular sales, intimate and personal, accompanied by a series of around the world tastings as a prelude to the auction-event in March 2023. Because Chartreuse, wave of green and yellow, unites – through its capacity to traverse the ages, the mystery surrounding its creation but also the transmission of its original elaboration secrets. Never before has a liqueur aroused so much curiosity and passion. This is why we feel particularly honoured by the mission entrusted to us in the sale of this extraordinary collection, which will be a landmark in the world of great liqueurs.
We invite you, dear admirers, collectors, enthusiasts and gourmets, to taste and to share this eternal Chartreuse liqueur so that its vibrant and incarnate nature may be passed on from palate to palate for many decades to come.
If you were to ask me to guide you through a selection of liqueurs to drink, to keep or to offer to your children among the jewels of this collection, here is a list of some delicacies which merit close study :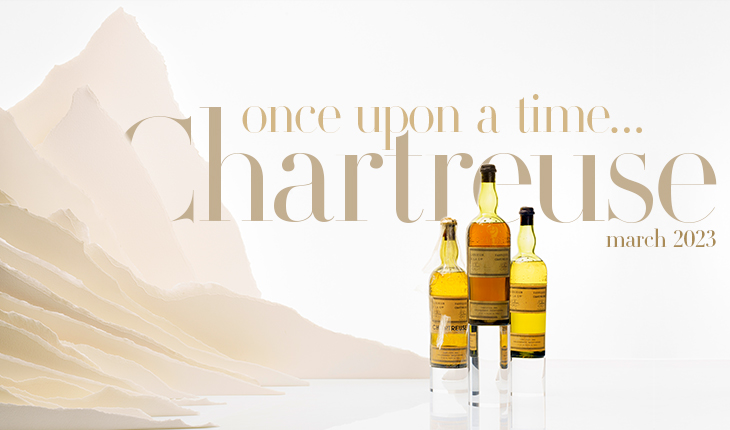 Live-streamed & Online auction(s)
Saturday 4th  +  Sunday 5th  +  Monday 6th of March 2023
Note
—
Prospective buyers should be aware of certain restrictions imposed by various jurisdictions regarding the shipment and importation of spirits (including Liqueurs Chartreuse). Many countries impose limitations on quantity, high duties and/or taxes. Prospective buyers should be fully aware on export and import restriction before planning any shipment of Liqueurs Chartreuse and spirits in general.
The weeks leading up to the sale will be filled with high-profile events around the world: Singapore, New York, and Geneva. All focused on unfolding the "Chartreuse" tidal wave, these tastings – open to a limited number of enlightened connoisseurs – will enable the lucky few to taste Chartreuse bottles sourced directly from the collector's private cellar.
---